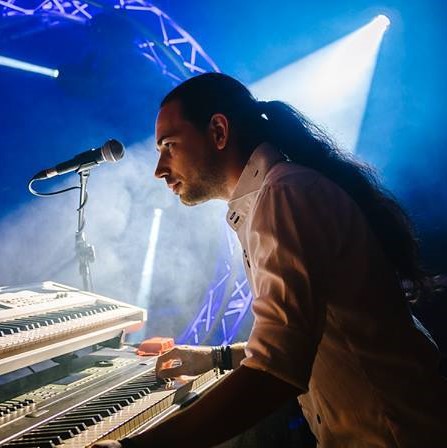 In 2005, Alberto obtained a degree in Organ and Organ Composition at the Gaetano Donizetti Music Institute in Bergamo under the guidance of Master Matteo Messori.
Since 2000 he has worked actively with the Donizetti Theater in Bergamo, Donizetti Foundation, MIA Foundation, G. Donizetti Conservatory, Master Ranieri, Master Sacchiero, Master Giovanetti, Master Belisario, Master Cattaneo and the Master Pelucchi for the review, transcription, printing and divulgation of the unpublished works of Alfredo Piatti and Johann Simon Mayr.
Since 2007 he has collaborated with Donizetti Theater and the Donizetti Foundation in Bergamo and from 2012 with the Coccia Theatre of Novara as master of the surtitles for the projection of the opera booklets during the opera season.
For the Donizetti Foundation he has curated the critical editions of Maria de Rudenz, Torquato Tasso, Rosmonda d'Inghilterra and Il Borgomastro di Saardam by Gaetano Donizetti.
For the Carrara Editions he has published:  Concerto per Oboe o Flauto e Orchestra in Do maggiore - Riduzione per Pianoforte by Giuseppe Ferlendis (2010) and Il Maestro Smania (commedia in un atto) - Voice and Piano by Daniele Maffeis (2010).
He also published for the Acts of the University of Bergamo Science: Alfredo Piatti's music in modern editing (2003).
He teaches piano, keyboards, Finale (musical notation program) and overall music since 2017 at the Accademia - Centro Studi Musicali in Bergamo, since 2014 at the Quinto Grado Cultural Association in Esine (Bs) and at the  Libera Musica of Lallio (Bg), and since 2010 at the CEM Centro Emotivo Musicale of Longuelo (BG).
Since 2014 he has also opened the professional music transcript website www.musigrafia.it.
He is a versatile and multi-faceted musician at studying the organ, as a concert instrument, and he has always been studying alongside the piano and the modern synthesizer, dealing with several repertoires.
He collaborated with the following musicians: Paolo Legramandi, Matteo Milesi, Guido Bombardieri, Michele Catri, Bryan Beller, Cheryl Porter, Jono Manson, Jonny Kaplan, Carmen Cangiano, Pier Mazzoleni, Dudu Kouate, Simone Pirola, Stefano Forcella, Tiziano Incani (Bepi), Pierangelo Pelucchi, Sebastiano Rolli, Alessandro Del Vecchio, Pino Carella.
He is currently the keyboard player for the following projects:
The Black Phoenix,
B.M.B. Bon Jovi Tribute Band (www.bmband.it),
Bepi and the Prismas (www.ilbepi.com),
Eleventh Hour (www.eleventh-hour.it),
Seasons of Rock.
Intense is his activity in recording studio:
The Black Phoenix - Twist Of Fate (2017);
Eleventh Hour - Memory of a lifetime journey (2016);
Les Mustaches - Tyger, la favola della principessa bambina (2015);
Bepi & the Prismas & Friends - Poldo (2015);
Simone Pirola & the Black Phoenix - Long Walk (2014);
Michele Catri - For the love of the animals (2012);
Pleasure Slaves - The Last of the Giants (2012);
Pier Mazzoleni - La tua strada (2012);
Carmen & the Wallops - Live at the Amigdala Theater (2011);
Timesword - Chains of Sin (2010);
Michele Catri - Imagination Promo (2009);
Arkadia - Polvere (2007);
Blinking Lights - Psycho (2005);
Arkadia - Niente Rimpianti (2004).